The PPS is a new, high-current power system for experimental and light-sport aircraft.
EVERETT, WA, July 24, 2017 – Astronics Ballard Technology, the industry-leader for reliable avionics databus interface solutions and world-class customer support, announced today that they will be taking reservations for the new Vertical Power Primary Power System (PPS) for experimental and light-sport aircraft at AirVenture in Oshkosh, WI. Show attendees can make a reservation for the new PPS for an opportunity to purchase one of the first production units, scheduled to be available later this year. The Vertical Power booth is in Hangar C, #3077.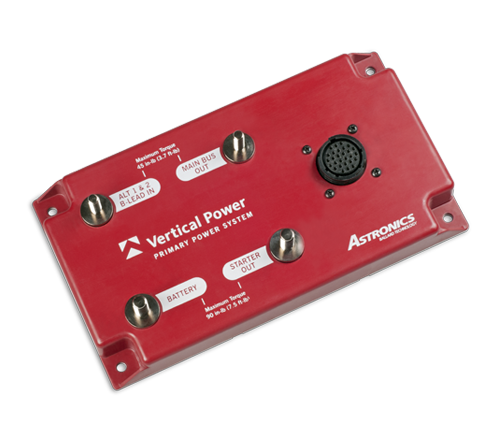 The PPS is an entirely new approach to the master, starter, and charging circuit for experimental and light-sport aircraft. It combines the functions of multiple high current, electro-mechanical components into a single solid-state device that installs in minutes with plug-and-play simplicity. Using the PPS improves system reliability, saves space, and eliminates the need for the builder to research and design a homemade solution. For light-sport aircraft manufacturers, the PPS will improve customer satisfaction and lower costs through reduced installation time, weight savings, and increased reliability. The PPS is suitable for both new and retrofit installations.
"There's never been anything like this before and it's truly the best solution for experimental and light-sport aircraft primary power," said Chad Jensen, Vertical Power Sales Manager. "We've worked diligently to design a solid-state, primary power solution that is both safe and reliable for our customers. Equally challenging was creating a high-current device that is universally compatible with the wide variety of aircraft and engine configurations found in this aircraft market. Our beta testers have been incredible and we thank them for providing the valuable feedback needed to make this innovative product a reality."
By combining the soon-to-be-released PPS with the existing Vertical Power VP-X Electronic Circuit Breaker System, builders and manufacturers can now outfit an experimental or light-sport aircraft with an end-to-end, solid-state power distribution and circuit protection system for the highest level of reliability, information, and safety.
For more information on Primary Power System, click here.
ABOUT ASTRONICS BALLARD TECHNOLOGY and VERTICAL POWER - Astronics Ballard Technology is the industry-leader for reliable avionics databus interface solutions and world-class customer support. Astronics began supplying avionics databus interfaces to the aerospace industry in 1986 as Ballard Technology, and was one of the first to realize the potential of using standard computers as the host for specialized test equipment. Astronics acquired the assets of the Vertical Power Electronic Circuit Breaker product line on November 26, 2013. Previously, Vertical Power was a stand-alone company based in Albuquerque, NM. It was founded in 2006 to design and produce Electronic Circuit Breakers for experimental and light sport aircraft. This advanced solid-state technology simplifies electrical system complexity, streamlines wiring installation, reduces pilot workload, and enhances a pilot's ability to respond to in-flight emergencies. The Vertical Power product line is based in Everett, WA.
More information about Astronics Ballard Technology is available at www.Astronics.com/BallardTechnology.