Jake Jansen is a Value-Added Distributor for Vertical Power products in Australia. He has been using the VP-X systems exclusively since 2012 and installed one in his Glasair IIS in 2014 and is happy with the system. For Jake, it has been a journey and a leap of faith to go from the old world way of doing things to where he is now.
"Ever since I started purchasing the VP-X systems I've come to understand how well thought out and designed it is," says Jake. "It allows monitoring the status and loads of various devices that a simple fuse/circuit breaker system is unable to do. There are built-in features that normally would require other expensive and time consuming work to install. For example, there's over voltage/over current, starter stuck engaged, trim runaway and load monitoring of each device connected to it."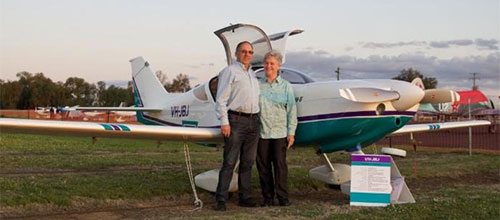 Jake says he found the install manual to be easy to follow and likes that it offers various methods for backup busses so that essential items (in his case - fuel pump, Comm, GPS and AutoPilot), can be powered directly from the battery if he has a situation that requires the Battery Master to be turned off.
"The guys at Vertical Power, well supported in more recent times by Chad Jensen, have given me excellent support and faith in a product that works as advertised," continues Jake. "They are part of a small group of manufacturers that I have the pleasure in dealing with. I'm now looking forward to the availability of the new PPS unit later this year, no more separate solenoids and big panel mounted circuit breakers or ANL fuses - way to go."