The VP System
Better Together: PPS and VP-X
Reliable, Solid-State Aircraft Power
Take the guesswork out of wiring your experimental aircraft.
Vertical Power makes it easy with a solid-state electrical system that handles both high-current primary power and aircraft bus power. You'll not only simplify your building process, but you'll increase system reliability and fly with a solution that provides a higher level of information and safety.
The Complete Vertical Power System: PPS and VP-X
The Vertical Power system consists of our two main products: the Primary Power System (PPS) and the VP-X Electronic Circuit Breaker System. These can be used separately, but by using them together, you are installing a highly reliable, end-to-end power distribution and circuit protection system that eliminates the weak link of traditional electro-mechanical or thermal components.
Firewall Forward - The PPS
The PPS handles your high-current power. It controls the flow of power from the battery to the starter and supplies power to the VP-X for your electrical system loads. The PPS also supports the charging circuit by completing the B-lead connection to the alternator.
The PPS is a carefully-engineered and highly-qualified device that eliminates the need for you to engineer and manufacture your own primary power circuit. This not only puts an end to common errors in homemade circuits, but the solid-state construction of the PPS proivdes extremely high reliability when compared to the failure-prone contactors used in traditional circuits. In addition, the plug-and-play design of the PPS installs in minutes, saving you valuable time and allowing you to fly that much sooner.
Powering Your Loads - The VP-X
The VP-X is a centralized, solid-state control unit that replaces your traditional power bus. This micro-processor controlled unit distributes electrical power to the devices and loads on your aircraft and provides complete circuit protection. Wiring is quicker and less complicated since there is no longer a need to wire through individual breakers, switches or relays, just direcly from the VP-X to the load. The Vertical Power Planner, our free online tool, makes planning your electrical system easier.
Flying with the VP-X is safer. It integrates with your EFIS to provide full control of your electrical system and deliver detailed information about each individual circuit. When seconds count, you will immediately receive notification of short circuits, overloads, or no-load situations, so you know and understand the state and health of your electrical system at all times.
The Vertical Power System Diagram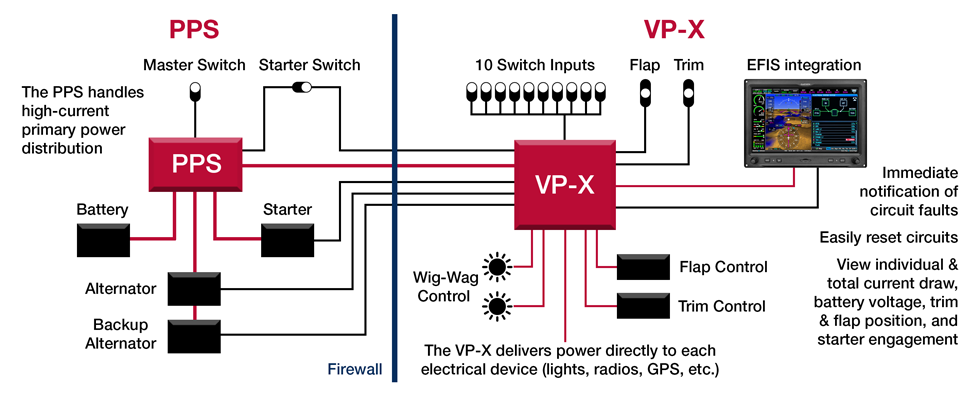 The only solid-state electrical system designed for experimental and light-sport aircraft.
There is no comparison. Vertical Power is the only solid-state electrical system designed specifically for use on experimental and light-sport aircraft. Whether you use the PPS or the VP-X individually, or both together for an end-to-end system, you will be using the finest, most reliable electrical system available today.
System Benefits
Take a closer look at the benefits of Vertical Power. From easier installation to safer flying, higher reliability to greater system flexibility, traditional wiring doesn't even come close. That's why everyday more and more builders and LSA manufacturers are choosing Vertical Power for their aircraft.
Simplifies airplane wiring and speeds the installation process.
Helps even the novice builder plan, create, and install an optimal electrical system design for their aircraft.
Reduces parts count and complexity.
Provides for easier system changes or expansion.
Reduces pilot workload by automating functions and providing immediate electrical fault alerts and system status on your EFIS along side other important flight information.
Safeguards flight integrity by protecting flap, trim and starter components during flight.
Eliminates hazardous and costly wiring mistakes.
Delivers higher reliability and longer life than traditional methods. No arcing. No moving parts.
Provides a higher level of information and control.
Allows you to spot, identify, and troubleshoot electrical system issues sooner and quicker.
Future-proofs your electrical system to take advantage of new advancements in avionics.
The first step toward a world-class electrical system is planning, and we offer the easiest tool to help. The Vertical Power Planner is an online tool that guides you though the process of planning your electrical system. And best of all, it's completely free!
Get More Information
Find out more about the components that make up the Vertical Power System. Follow the links below to get full details on the PPS and the VP-X.
The Reliable PPS
Install the most reliable high-current power system in a fraction of the time of traditional components with the new Vertical Power Primary Power System (PPS)
The Versatile VP-X
Simplify wiring of your aircraft with the Vertical Power VP-X. You'll fly with a new level of information and control, plus the flexibility to easily reconfigure when changing or adding new avionics.