Sun 'n Fun is viewed as the kickoff of the show season, and this year's kickoff was a great one. There was a steady flow of people in and out of the booth all week long and it was great to see the show doing so well. Interest in the Primary Power System just keeps getting stronger and we are so excited to be closer to bringing the PPS to the market. Homebuilders, manufacturers in the LSA market, and even some kit manufacturers are showing interest in integrating the PPS as standard equipment in their electrical design. 
We had a great visit with Mark and Conrad Huffstutler, the owners of the "new" Lancair company. They stopped by to learn more about Vertical Power. They are interested in putting a VP-X (or two) in each new airplane they produce. There is also interest in a PPS (or two) in each as well.
Peter Muller from Raptor aircraft also stopped by to check on progress. This company has "orders of interest" of over 900 planes (each including a VP-X on-board) and we couldn't be happier for them.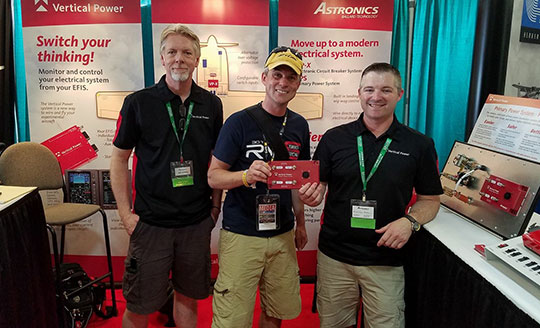 Jeff and Chad in the booth at Sun 'n Fun 2017 talking PPS with Mike, a friend of Vertical Power