Samson Motors is the maker of the Switchblade flying sports car. The Switchblade is a three-wheeled, fully enclosed vehicle that you drive from your garage to a local airport. Once there, you swing the wings out and fly directly to your destination at up to 200 mph, at altitudes to 10,000 feet. You simply land and swing the wings closed, continuing on wherever you want to go.

Astronics Ballard Technology is a proud OEM partner of Samson Motors and will be supplying the Vertical Power VP-X Pro for power distribution in this amazing vehicle. Sam Bousfield, CEO of Samson says "We are excited to use the VP-X in the Switchblade. It has a nice feature set, and handles most of our power needs. Higher current items like the wing swing won't be able to be powered by the VP-X, but for most equipment, it just makes it easy and makes sense."
The highly-anticipated Switchblade is also getting international exposure. Adds Bousfield, "We were just filmed by French TV, which has 30 million viewers daily. They are doing a piece on flying cars, and came out from DC to visit the hangar so we will have some great exposure around the globe."
Visit samsonmotorworks.com to find out more about this unique, high-performance vehicle.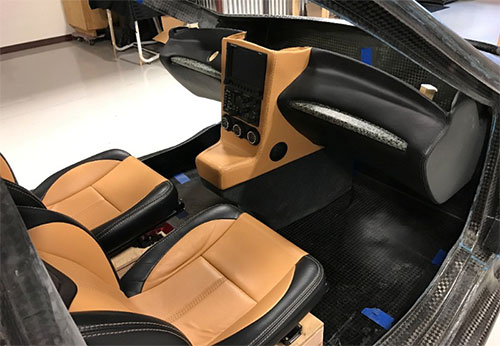 The luxurious Switchblade leather interior