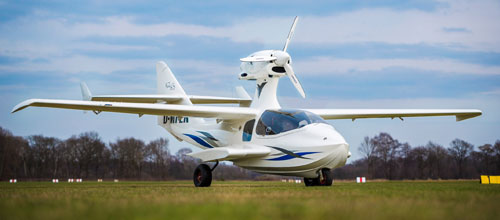 Flywhale Aircraft (now UNIPLANES GmbH) is a small aircraft company located in Doetlingen, northern Germany and founded in 2012 by Elke and Helmut Rind. They are one of our newest Vertical Power OEM's and have chosen both the VP-X Electronic Circuit Breaker System, as well as the PPS Primary Power System for their new plane, the Flywhale FW02-650 amphibious airplane. Uniplanes is currently the only manufacturer of ultralight amphibious aircraft in Germany.
The Flywhale is powered by a Rotax 912is engine with a three-blade composite propeller and qualifies under the light sport amphibious rules. The airplane was designed with adventures in mind and a strong focus on safety and reliability. For those reasons, they chose Vertical Power products to provide ships power in the most modern, safe, and reliable fashion. The aircraft features a super clean cockpit thanks to the remote mounted VP-X that eliminates the need for panel-mounted circuit breakers. The vehicle also benefits from the modernization of the high-current primary system with the Vertical Power PPS. 
Click on the link below to be taken to their website and view all of the information available on this new amphibious aircraft.